HUZAA! LOOK! I CAN DRIVE!!! ...sort of...
Hey everybody! GUESS WHAT!!!

I'll TELL YOU WHAT! THIS!!!!!!!!!!!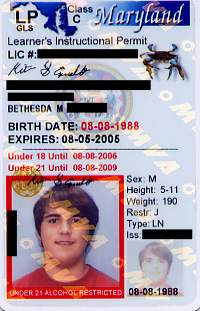 Hooray!
Once again I had written the entire artical and the fucking thing got entirely deleted. I'm gonna try and re-write the whole thing and if anyone bitches that it's crappy I'm gonna come to their house and kill them.
So... Anyway, right after I got back from getting my learner's permit I (to my complete and total surprise) went on a two hour driving spree. My mom hid it under the guise of "wanting me to learn" when really I just ran errands with her.
So, my first time driving a car... EVER I drove around a good portion of Bethesda and some of glen echo and D.C. So... now I have a pretty good feel for the car and an idea of how to drive. Yup that pretty much wraps up my day. Oh, and I'm gonna go fix some dudes comp tommorow, and then go play some what I believe to be friendly poker. So... anyway, here's my doodles for today... not so many as usual, but still quite a few:
I don't know why this one is so light. O well, it's a balding fat man.
Someone want to suggest I cut my hair again?! HUH? WHAT? BITCH!!!!!!!!!!!!!!
The ninja Mushroom
The doodles started to get angry I stabbed one and they started to rebell...
Oh yeah, and just so that everyone knows, it's just 3 days till my birthday.
Posted by Kickmyassman at August 5, 2004 10:09 PM